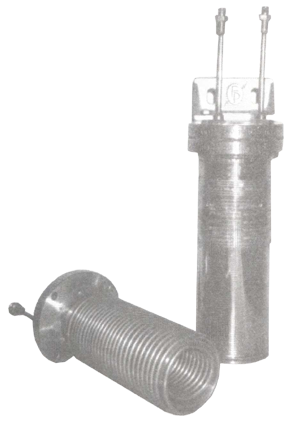 Sample Cooler type SDC4400 is a shell and tube type heat exchanger in which the sample to be cooled, flows through the tube and the cooling liquid (usually water) flows through the shell side. The SDC4400 type of cooler has a double helical coil of size 1/4" OD with no welded joints in the entire coil length. The cooling fluid enters the cooler from bottom and exits from the top after completing three counter passes across the inner and outer baffle tubes. The 3-pass counter flow design together with a large (0.24 m2) heat transfer area ensures high cooling efficiency even with H.P steam samples.
Salient features:
High cooling efficiency due to 3-pass counter flow design - minimum vibration and scaling even at low cooling water flow rates.

Heavy duty, rugged design with pressure ratings to cover most steam or process samples. Coil is a single continuous tube with no welded joints.

Can be easily mounted in cooling water lines without using special supports. Shell can be easily dismantled without disconnecting sample lines.

Very high heat transfer surface area for unit cost. Wide variety of materials of construction to cover most sampling applications.

Sample Coolers type SDC4400 are pressure vessels designed to ASME Sec Viii Div.1.

Certification of manufacture and pressure tests by 3rd party inspn. agencies are possible.